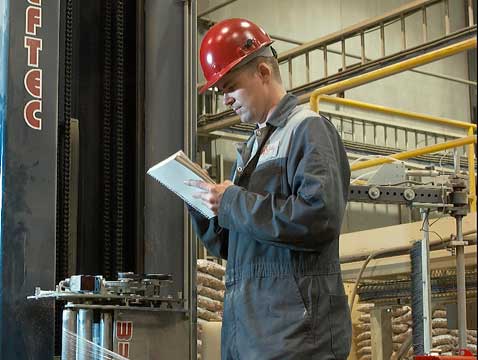 Service and Support
Preventative maintenance programs
GF Packaging's program for preventative maintenance takes the form of a plan that meets the individual requirements of each client. These plans offer a reduced service rate for scheduled calls as well as for emergency repair calls. The objective is to reduce your operating costs while ensuring increased equipment dependability and machine life.
Scheduled calls include routine equipment service and diagnostic trouble-shooting that significantly increases the life of the equipment and reduces the risk of downtime. We can arrange the frequency and timing of these calls to best meet your specific needs.
Emergency repair calls address actual downtime, when a machine is out of production.
Routine service is an important part of keeping your equipment efficient and reliable. It includes:
Visual inspection of the machine
Cleaning of the inside of the machine and any critical areas
Lubrication of all bearings, etc.
Testing of belts, drives and other wear-intensive parts.
Performing standard adjustments (realignments) on feeds and guides as needed
Recommendations on any repairs or parts-replacements that may be required.
Call your local branch for details of the program in your area.
GF Service also offers a loaner tool program for industrial fastener customers. The loaner tool program is accompanied by a service plan that includes no-charge labour and no-charge soft parts (like o-rings). Loaner tools are given service priority because they are frequently a critical part of a customer's operation.